Typewriter Key Jewelry
Sourced from some of the legendary typewriter companies of the early 20th century, iconic names like Remington, Smith Corona, Underwood, and the Royal Typewriter Company, these magnificent typewriter keys have found a new life as stunning pieces of personal jewelry, hand crafted into exquisite bracelets, necklaces, pendants, earrings and cuff links.
Whats New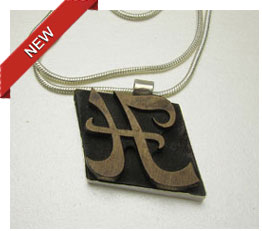 Letterpress Jewelry
Oku Den has taken the old patinas of the vintage and antique Letterpress blocks and preserved there innate beauty and collectability. Not only does this jewellery have such a great history it looks incredibly contemporary to wear and makes a subtle statement.. For Guys or Gals a great choice to give a gift from the past. More........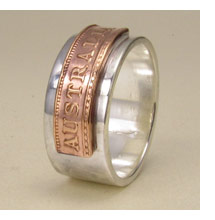 The Australia ring
So new, in fact... the silver is still cooling down.
Reclaiming our pre war currency in an imaginative way and another exquisite link with a bygone era.
This is the Australia ring. Almost ten grams of solid sterling silver and a copper segment from a pre 1936 Australian Penny.
More........