About Me
It's no wonder that I've been making things all my life. It runs in the family. At least, I know I caught it from my father. He was a real artisan, practical and creative. There wasn't anything that was broken in our house that he couldn't fix. The toaster, the lawn mower, the electric kettle, the washing machine, his beloved Triumph motor cycle – if it wasn't working when Dad got to it, it was soon after!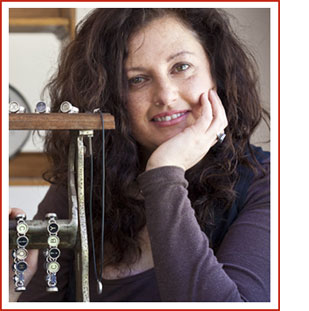 I think that's why I'm so passionate about recycling old things into new things, especially if there is room for artistic expression somewhere within the process. And in fact, my very name – Oku Den – is derived from a variety of sources, all pointing towards discovering and unlocking hidden mysteries, or revealing esoteric, secret teachings, something I strive to do with my type key jewellery, and with all my other creative endeavors.
And over the years, they have been many, starting way back when I manufactured the leather outfits for the main stars of the first "Mad Max" movie. In my early days too, I worked for a Perth clothing company and began making accessories from the scraps on the floor. The director incorporated them into his designer range!
I've been collecting Japanese kimonos for many years too, and continue to make great wearable art. I've recycled advertising banners into bags and other usable items. I founded a tipi manufacturing company (check out onemoon.com.au), where the very first tipis I made were from ex army tents, re-crafted to make brilliant shelters for some of the homeless Forest Alliance folk in Bellingen, NSW.
Now my fascination with the history of typewriters and all the words they have written, and my burning desire to bring out the secret hidden meaning – the "Oku Den" – embedded in these wonderful instruments. Discovering typewriter key jewellery has been a thrilling part of my journey within the creative process. My passion now is to turn these gorgeous remnants of a bygone era into new, inspiring, wearable art.

I truly hope you find delight in my type key offerings. (I am extremely excited about my new letterpress art as well.)
My work shop is a wildly random mix of heavy machinery and beautiful jewellery tools, and I am always designing new ways to wear these fabulous typewriter "jewels", so please keep checking in on this website to look at up and coming releases.
I will also be posting a YouTube video of my workshop and labors in reclaiming these wonderful and original typewriter keys.
Don't forget to email me if there's something special you'd like me to create for you. I'm happy to quote you on an individual basis. My favorite "special commission" so far has been to make a wrist bracelet from old type keys reading ONE 234, for a woman whose husband is a muso!
Among my inspirations, I list the forest, my daughter Mahli, progressive education, organic food, freedom, film, yoga, acting.
And the greatest joy I get from my work? Knowing how proud of me Dad would be

---